As one of the largest and most diverse countries in the world, The United States boast an amazing amount of tourist destinations ranging from the skyscrapers of New York and Chicago, the natural wonders of Yellowstone and Alaska to the sunny beaches of California, Florida  and Hawaii. With so many tourist attractions it's tempting to list entire cities or even states, but in this top 10 I have tried to focus on specific attractions.=
White House
The White House in Washington DC  is the official residence and office of the President of the United States. It was built between 1792 and 1800 and first used by President John Adams. After the 9/11 attacks it has become more difficult to visit the White House and today tours are available only for groups of 10 or more and must be requested up to six months in advance through your member of Congress or your country's US Ambassador.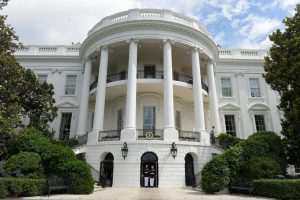 Denali National Park
The Denali National Park and Preserve  is located in Interior Alaska and contains Mount McKinley, the highest mountain in North America. The word "Denali" means "the high one" in the native Athabaskan language and refers to Mount McKinley. In addition, the park protects an incredible wilderness area that contains grizzly bears, caribou, moose, wolves, and numerous other creatures.
Golden Gate Bridge
The Golden Gate Bridge is a suspension bridge spanning the Golden Gate, the strait between San Francisco  and Marin County to the north. The Golden Gate Bridge was the longest suspension bridge span in the world when it was completed in 1937, and has become an internationally recognized symbol of San Francisco and California. The famous red-orange color of the bridge was specifically chosen to make the bridge more easily visible through the thick fog that frequently shrouds the bridge.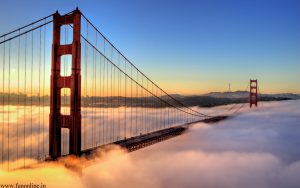 Yellowstone
Yellowstone National Park was the world's first national park, set aside in 1872 to preserve the vast number of geysers, hot springs, and other thermal areas, as well as to protect the incredible wildlife and rugged beauty of the area. Yellowstone lies on top of a gigantic hotspot where light, hot, molten mantle rock rises towards the surface. Subsequently, the park contains half of all the world's known geothermal features, with more than 10,000 examples of geysers and hot springs. In addition, black bears, grizzly bears, deer, elk, bison and wolves can all be found within the park borders.
Grand Canyon
The Grand Canyon  is located in northern Arizona and is one of the great tourist attractions in the United States. Carved over several million years by the Colorado River, the canyon attains a depth of over 1.6 km (1 mile) and 446 km (277 miles) long. The Grand Canyon is not the deepest or the longest canyon in the world but the overwhelming size and its intricate and colorful landscape offers visitor spectacular vistas that are unmatched throughout the world.